What do you get when two of the hottest American Camster girls get together in one chatroom for the first time? You get what Camster girls are known for … a party. An epic party. The kind you see in movies, where hot girls kiss-maybe just to excite the guys at first, then end up going wild on each other. Top camgirls Hollie Chandler and Little Lillyy got together for the first time on April 23rd, and live cam fans must have felt the stars align. They are two of the sexiest American girls on the site, and the thought of them together has probably been the subject of any number of wet dreams.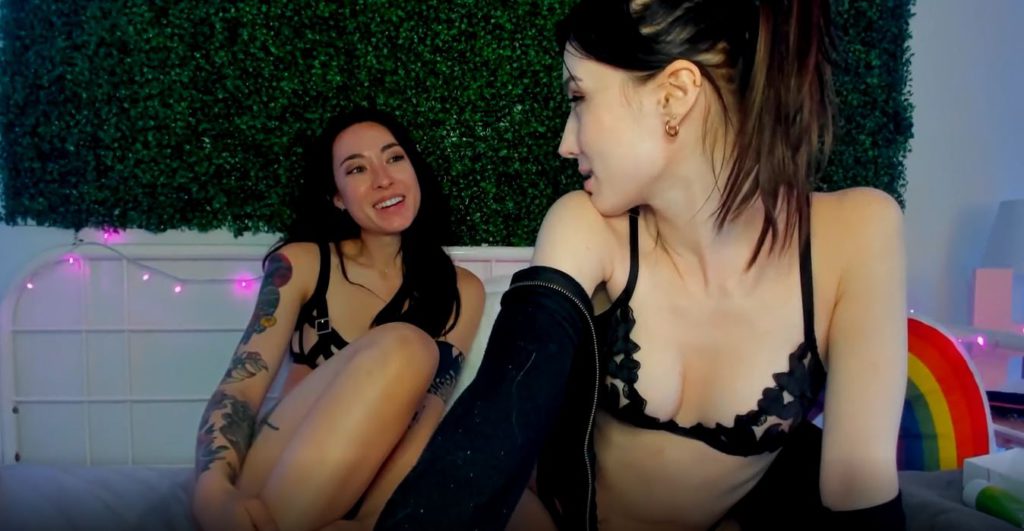 Together on Sex Cam For The First Time
Hollie and Lillyy pair together perfectly. Even sitting side-by-side , Lilly's elegant porcelain skin is perfectly complimented by part-Asian Hollie's duskier hue. The moment these two press their flesh together, Lillyy's hand caressing Hollies supple thigh, you can almost feel them tingle through the screen. They flirt and tease as they work through their early-show first-time jitters, playing a drinking game to get more comfortable with one another. Inhibitions start to melt away as the camgirls embrace, giggling, knowing what's coming.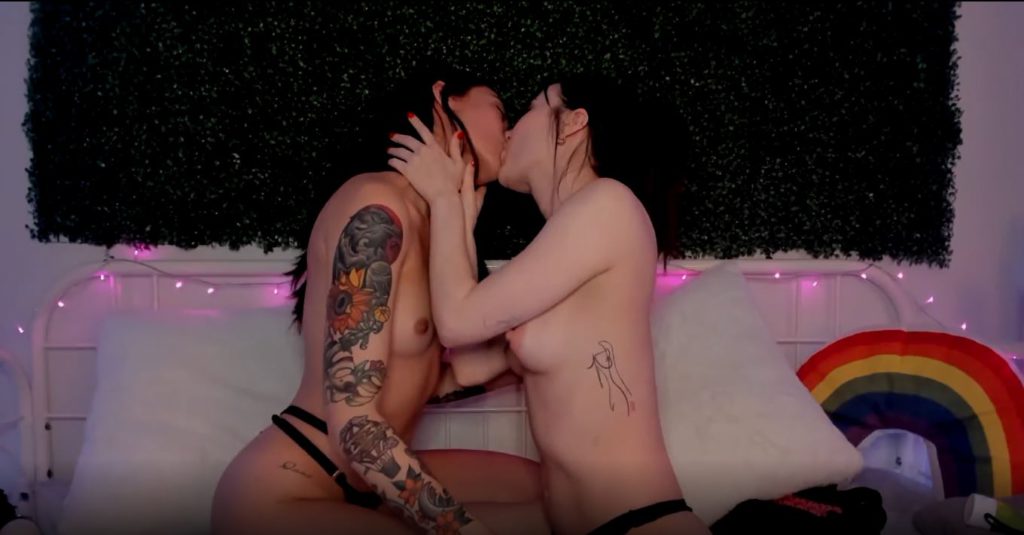 Sexy College Girls First Kiss
The tips flood in and fans make requests. The sexual tension breaks with the crack of a paddle, as Lillyy spanks Hollie's succulent ass. Once that ice is broken, these hot college girls embrace for the first time, "I'm nervous," Hollie giggles, "and my heart's pounding right now."
"Oh my gosh! She's a great kisser," Lillyy exclaims when they finally pry themselves apart.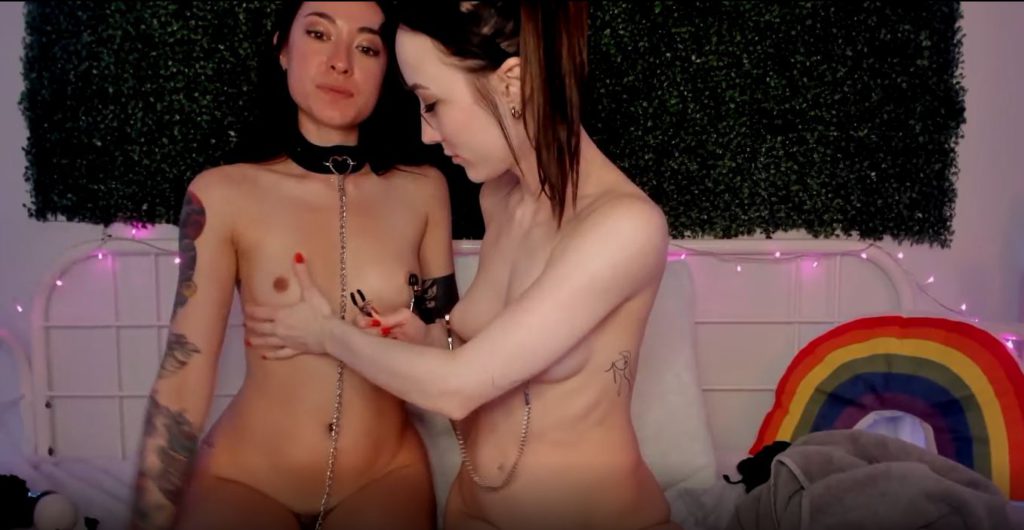 As they Flirt with their audience, the heat between these two lust-driven camgirls is palpable through the screen. The two models typically perform solo on cam, and are both known to get especially kinky. So as the heat and comfort grow in kind, they quickly spice things up with some fetish action. Hollie is collared while Little Lillyy aggressively tongues her costar's perky nipples.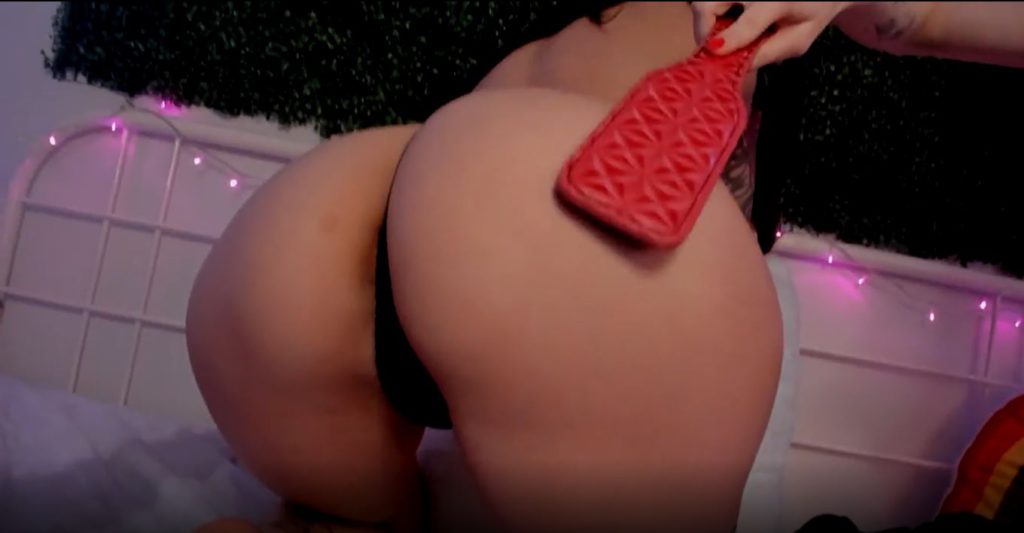 They spread oil all over one another's nubile bodies, getting more worked up. But they never forget their viewers. Again, these two Camster girls are well-known for every kind of kink under the sun. So as the tips reign and nipple clamps are requested, they're happy to oblige. First Lillyy's thick eraser heads are tweaked by silver clamps connected by a chain. Then Hollie's sweet nipples are locked down as well. Metal-on-metal, flesh-on-flesh, the bondage gear rattles together as they make out furiously.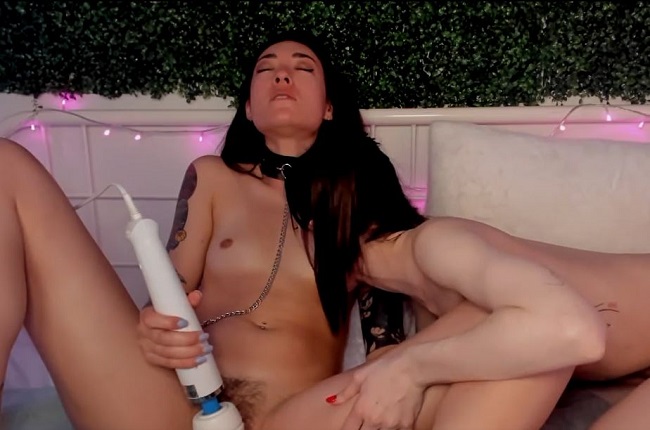 Two Kinky Camgirls Going At It
The time for foreplay draws to an end. These girls-next-door have been building to a release for over 3 hours. Hollie goes to her powerful massager, pressing it to her clit while Lilly helps her along with caressing fingers. When Lilly's turn comes, the petite vixen craves something harder. Hollie slides a butt plug into her friend's tight ass as she shrieks with orgasmic joy.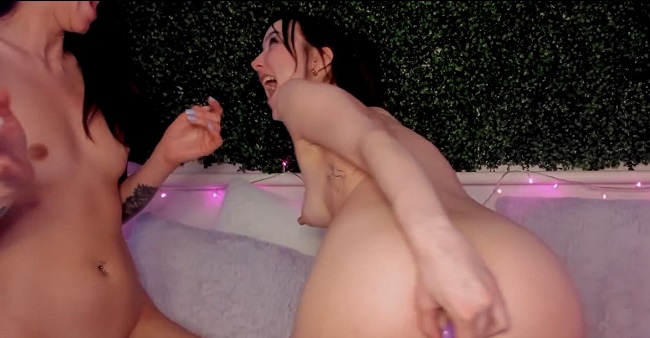 Finally, this epic girl-girl camshow passes its 4th hour. For those fans who have stuck with it to the scintillating end, the girls have an explosive conclusion in mind. Hollie pulls on a strapon, and with the camera in hand, gives viewer a first-hand view of what it's like to fuck Little Lillyy. Lillyy warms up the crowd by taking the rubber cock between her plump lips for a POV blowjob. Then she mounts up and rides Hollie Chandler to the end credits. How does she get her rocks off, in cowgirl or reverse? We won't spoil the ending, but know now, it is well worth the journey.
Or visit Little Lillyy or Hollie Chandler in their solo rooms and chat them up. We're sure they're looking forward to seeing each other again.