With her huge tattoos, perky tits, and amazing ass, Sam Bunny has made men cum in live sex for the past year-and-a-half on Camster.com. Now, Sam is giving erotic details about herself in our next exclusive interview!
She revealed her favorite toy, how she knows it's going to be a great day for camming, and the best way for customers to make her pussy wet. Read on for more sexy answers from one of the hottest cam girls in the world.
Why did you choose to be a cam model?
I knew it was a job that would ensure me a good monetary income and a future, here in Colombia. Even the professionals are badly paid and must work a lot of hours with a fixed schedule. This work gives you more freedom with your time too.
You have such a unique and artistic style. Where do you get your inspiration from?
It isn't inspiration, it's who I am. But, I can say that at the beginning, I tried to watch other models that use cosplay as part of their shows and I liked those shows for my own style. But, at the end, I realized it wasn't who I am, so I decided to be what I like- someone elegant, but rocker at the same time.
How many tattoos do you have?
30
What are your most meaningful tattoos?
My right arm tattoo. Someone I loved a lot who passed away made it, and it represents my love for animals and my pets.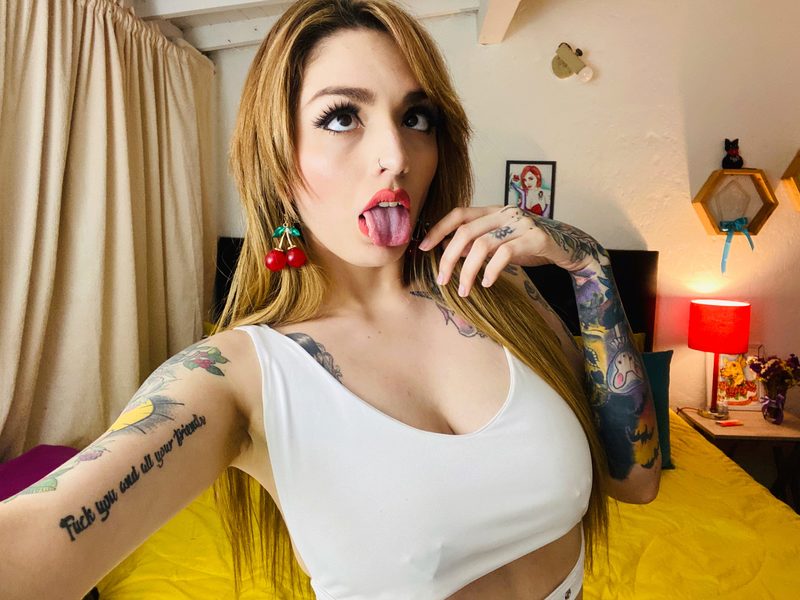 Do you plan on getting more?
For now I have some covers pending…
What have you discovered about yourself since becoming a cam superstar?
I learned to get to know my body, to know what I like, how I like it, and where I like it. I left behind all the sexual taboos and now I can talk about it without any problem, and I have more constant and better orgasms.
What is the first thing that goes through your mind when you're about to start camming?
I think it's going to be a good day and I put all my energy into that.
What do you love most about being a cam model?
Interacting with so many people from so many places, getting to know their customs, what they like, and above all the fun and eroticism that we live together day by day. Every day comes with different experiences and with new and wild emotions.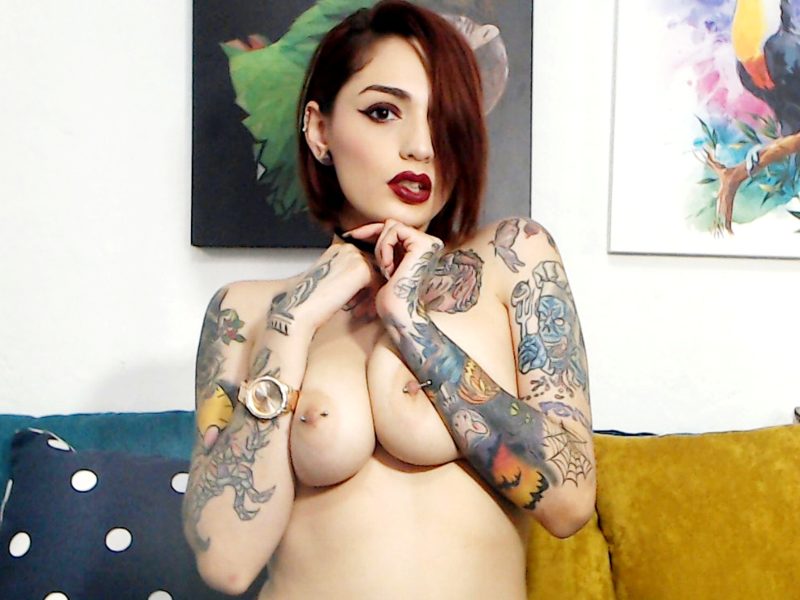 What were you like before camming?
I was a fairly demure person, a little more serious than I am now on camera, and as we say here in Colombia "mojigata" prudish. I worked in an office as a graphic designer like any other person.
What are your goals for the rest of 2020?
I can happily say that for this year I have managed to meet each of the goals and objectives that I have proposed, but it is not too much to assure that I will always work to reach higher.
Ever masturbated in a public place?
Never, but I have had sex in a public bathroom.
A trait about you that you wish customers noticed more?
I would like them to notice more that I am kind and educated and that I am not only interested in getting money. It's my work, but also in having a good time and making them feel good.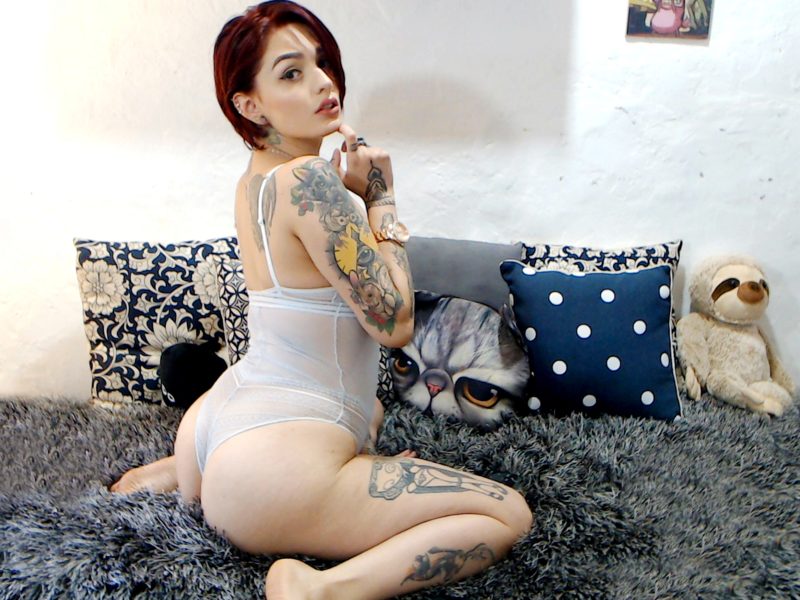 How did you become so good at the art of seduction?
Watching other top models, learning from my customers, reading books and articles about the topic, my knowledge about different topics, and my sociable personality helped me a lot too.
Favorite toy?
The Satisfyer is a toy used to stimulate the clitoris.
Favorite fetishes?
I'm into the BDSM world. I like to be a naughty and obedient slave.
Favorite sex position?
Missionary and doggy positions, but I like to explore.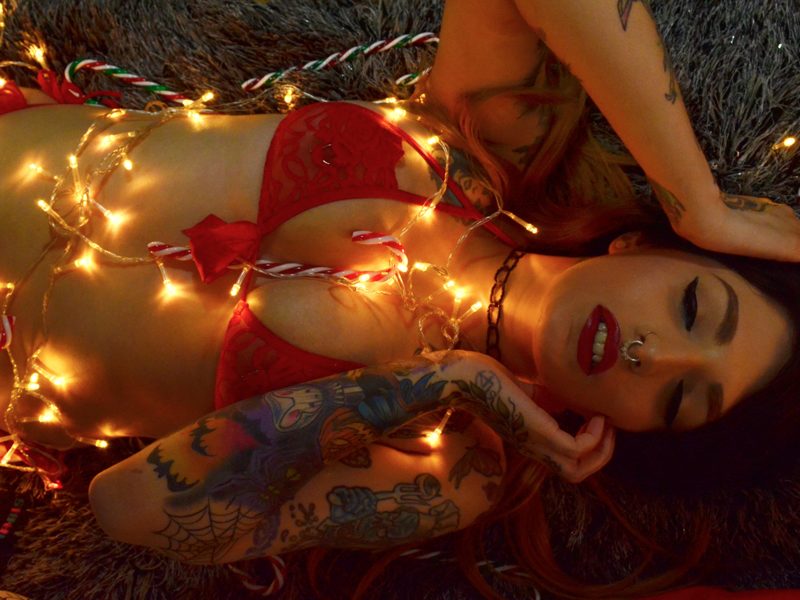 What does a perfect date look like to you?
Here is where we get a little romantic…I would like you to take me to dinner, either to a restaurant or to order something to take away. No one has ever given me flowers, so I would like someone to do it, then watch a movie, listen to music and have a good time. I don't need anything too fancy.
Was it intimidating the first time you were on a webcam?
A lot. It was quite intimidating. I was very nervous and asked myself all the time "what am I doing here", but at the end of the day, it wasn't as horrible as I thought!
Biggest turnoff a customer can do?
Get to know he's lying to me just to not pay or pay less the show or when he is rude to me. It has also happened to me that there are users who visit me to try to make me feel bad about my physical appearance and style, or simply because I am having a good day at work.
What is the best way to make a dream come true?
With perseverance and dedication, I remind myself every day that I can achieve what I want to, but more importantly, set goals.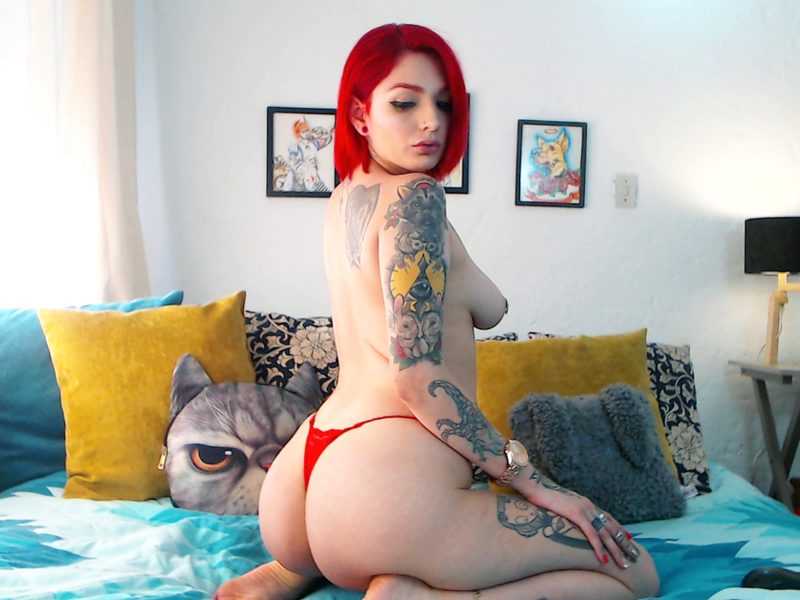 What is the best way for a customer to seduce you?
You just have to be kind and respectful to me. Treat me well, It is not a phrase but it is the most important thing for me to establish a good relationship with a user.
What is your favorite length of show?
More than 10 mins so we can cum together.
What country has the wildest customers?
United States and Canada.
What tips would you suggest for someone else who wants to be a cam superstar?
Be constant is the most important thing, but be positive and keep a good attitude is important too. Those are the three steps to achieve success.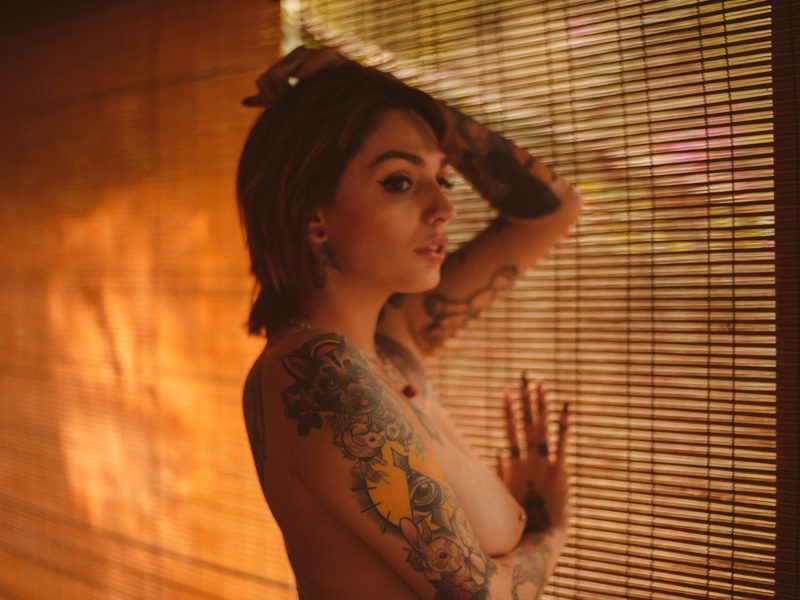 Who are your other favorite cam stars?
I like Maye Daye, Kisha Tida, Cassidy Blackwood and Kylie Burn.
What do customers usually notice about you first?
My charisma and kindness.
Has anyone ever recognized you in public?
Yes, a lot of times.
Where do you hope to be five years from now?
I would like to have my own investments and businesses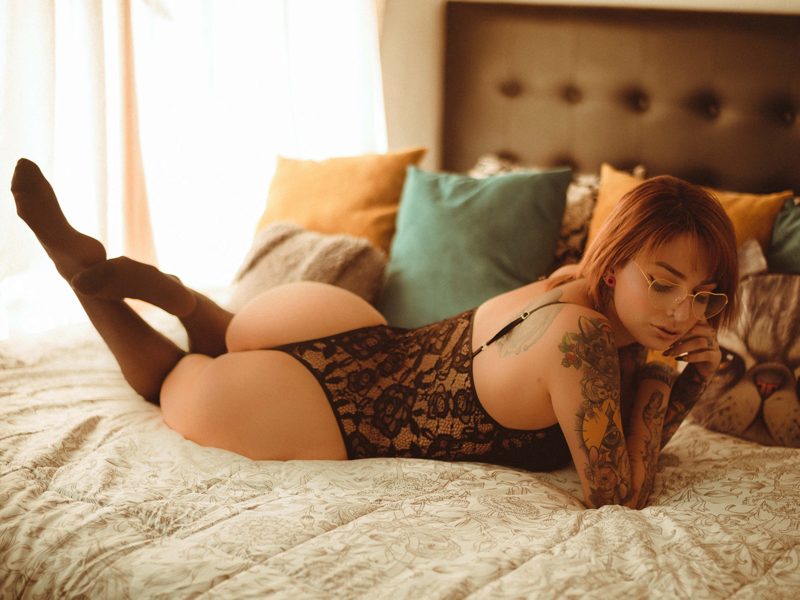 What has quarantine life been like for you?
Quiet. I have had a lot of peace and I have been surrounded by the people I love and who love me.
How do you keep busy in a pandemic besides camming?
Playing video games, watching movies, sleeping with my pets.
How do you stay positive when times get rough?
I think that if today was not a good day, tomorrow will be much better.
What is the best way to make you laugh?
Doing and talking nonsense.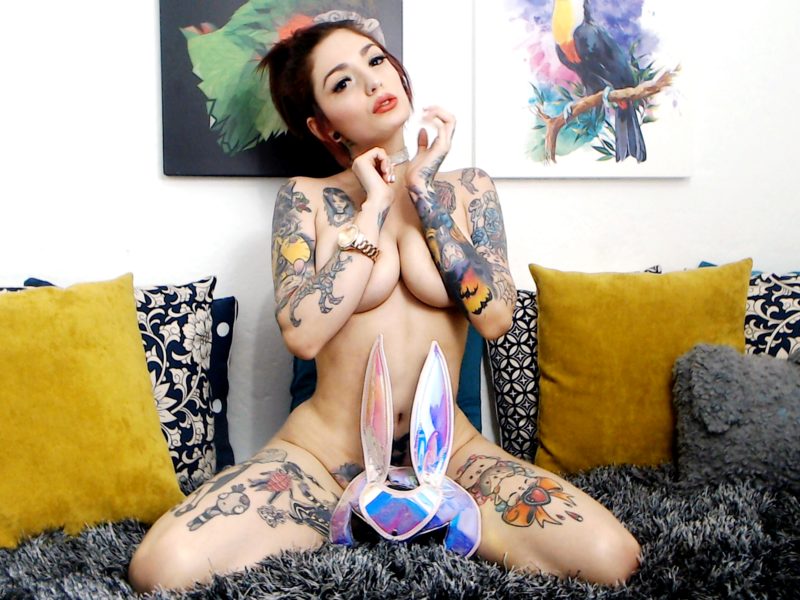 Have you ever gone nude on the beach?
Never, but I'd like to do it.
What is your sexiest feature?
My smile, my big boobs and my ass.
Best blowjob tips?
I like to do it slowly, with a lot of saliva and to the bottom.
Dick size preference?
I like them big.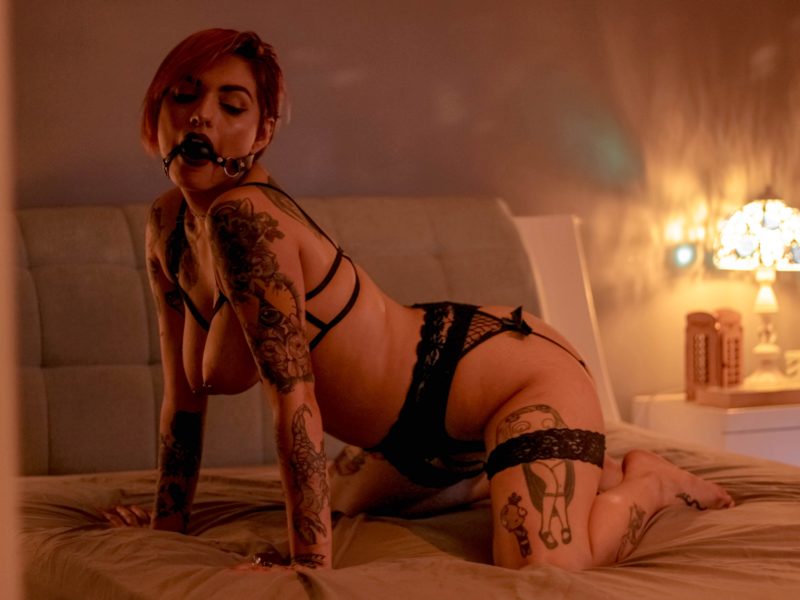 Give oral or receive oral?
Both.
Spanking or hair pulling?
Both.
What fictional character or celebrity sparked your sexual awakening?
Ashton Kutcher and Keanu Reeves.
Where do you want to go most on your next vacation?
I'd like to know Japan, Ireland and Australia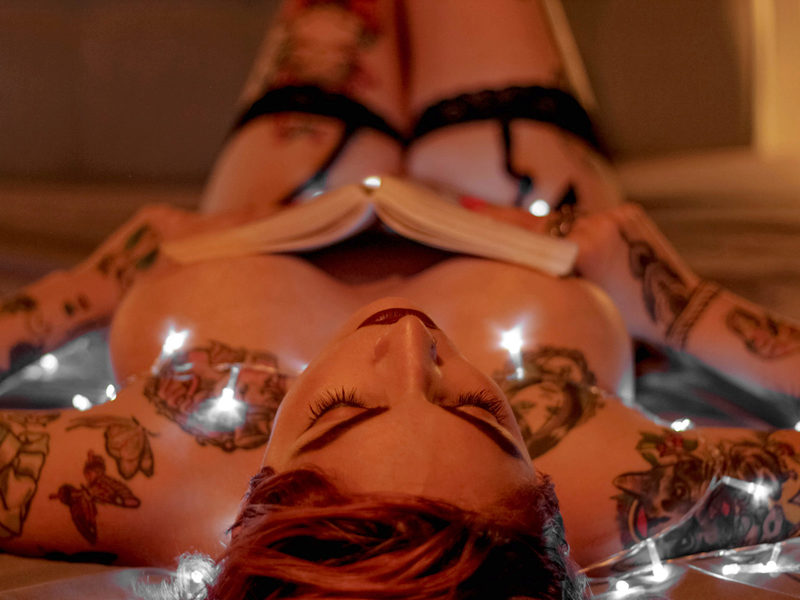 How many days per week do you work out?
5 days per week
Favorite kind of porn to watch?
Double penetration, anal and lesbian porn.
Favorite spot for your guy to cum?
Inside.
Favorite spot to be kissed?
My boobs, my neck, my ass and my back.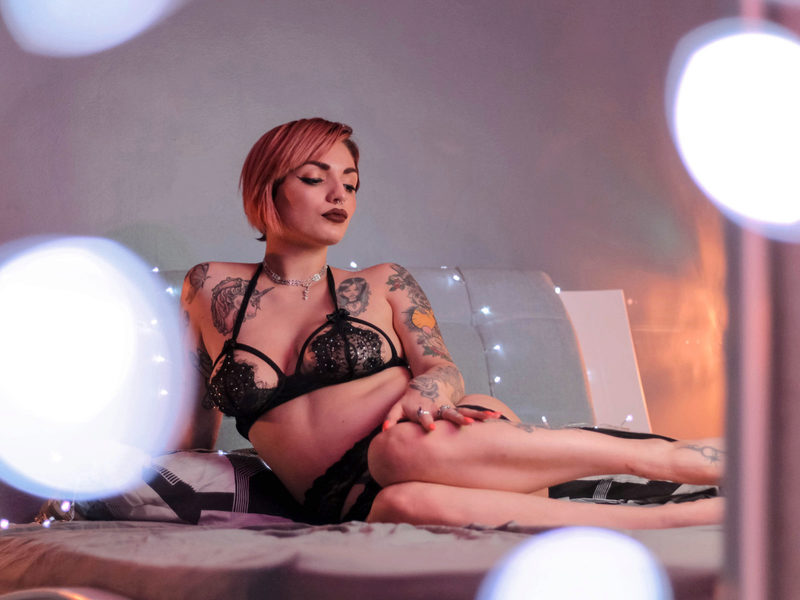 Favorite kind of underwear?
Lace underwear.
Favorite ice cream flavor?
Tangerine
Favorite movie?
28 days later and 28 weeks later
Favorite hobbies?
Video games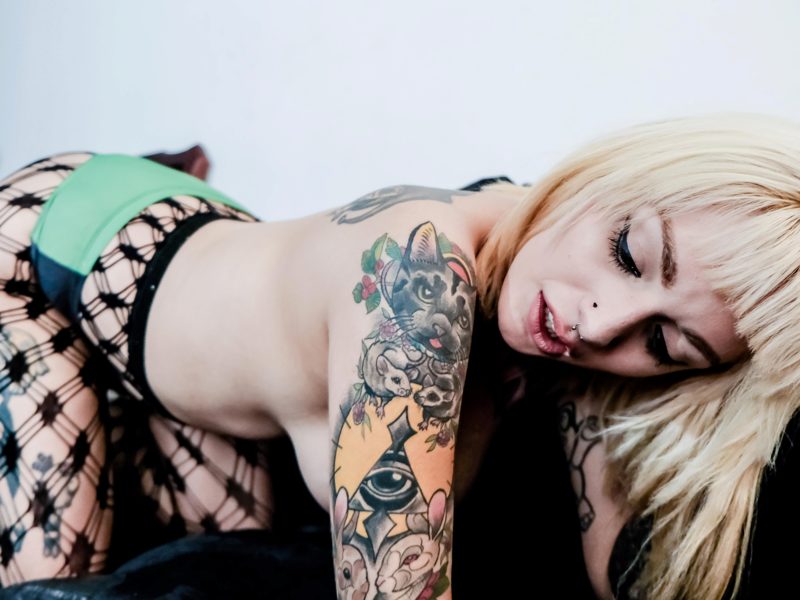 Favorite holiday?
Halloween
Favorite Disney character?
Queen Grimhilde and Mulan.
Favorite superhero?
Doctor Strange
Would you rather stay home and watch Netflix or go out to a club?
Stay home and watch Netflix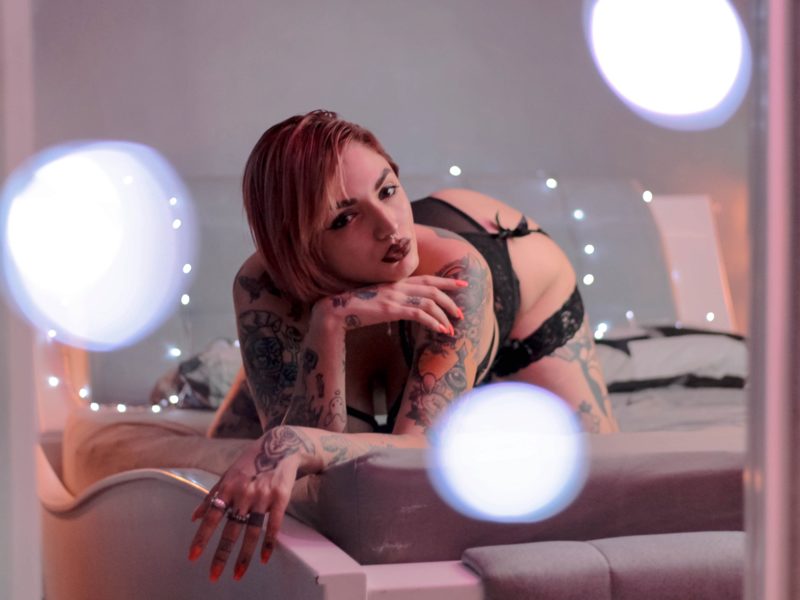 Who is your celebrity crush?
Johnny Depp
If you could have one superpower, what would it be?
Mind manipulation
What TV show are you binging right now?
Ugly Betty, but the Colombian version.
Is there anything else you would like fans to know?
Love you all!